Pageant Talk # 1: Gianna Quintos
Pageant Vixen Talk # 2 : Lissette Garcia
by: Jay`Em
Pageant Vixen Talk # 3: Nikolina Loncar
by: Jay`Em
------------------------------------------------------------------------------------------------------
Pageant Vixen Talks # 4 : Larisa Popa

Welcome Back! This time for out Pageant Vixen Talks it would be another European Stunner who competed at Miss Universe 2011 in Brazil. She won the Miss Universe Romania 2011 title and currently the reigning queen. Get insights from her!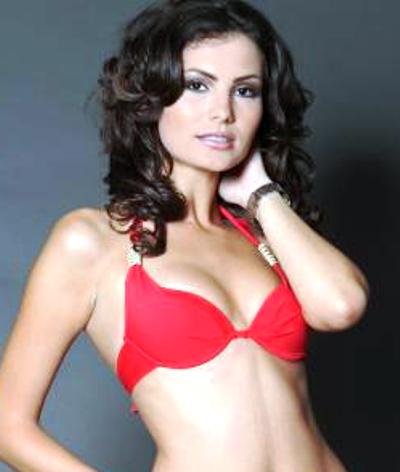 1. Who is Larisa Popa that people don't really know?
I'm coming from the same city as Mariana Mirica, Romania's contestant at the International Pageant of Pulchritude (1930), a Pageant where the trophy was named Miss Universe. Mariana Mirica was the 2nd Runner Up at that time. Slatina, the town where I was born and raised is little peaceful town on the left side of the Olt River, southern Romania. When I'm tired or melancholic I'm charging my batteries waching the amazing sunset, layed o a pier.When I was a child I was climbing neighbour's trees stealing cherries. It was a habit of Slatina's children. Other things about me... I usually hear my friends calling me a fashionista. Maybe because I'm always informed about the newest trends. I'm a big fan of textures. Lace, leather, suede, feathers, sequins and belive me I love them all.When it comes to dressing up I love to mix and match all kinds of stuff, but only if the mixture is confortable, classy and gives me self confidence.
2. If you have three wishes, what would it be and why?
I wish health for my family and friends, I wish to help people because I'm coming from a country where I've learned the meaning of being helpless. My third wish would be to became an actress.
3. When you first stepped in Brazil, what was in your mind?
When I checked in at the hotel, my supervisor told me to take that day off, for relaxing, but all I had in my mind was to get start the activities. I had a blast during the photoshoot with the famous photographer Fadil Berisha, and after that I began to know the other contestants. I was surprised to see how friendly they are. But, of course my first thought was that I must win that competition.
4. How did you balance competitiveness and fun in Miss Universe?
The organizers have made the schedule in order to enjoy the time spent in Sao Paulo, but also to be focused on training for pageant. So wasn't so hard for us to merge the two things. There were things that we could lived only once in a life time, so we took our time for fun, when we went clubbing, dancing samba or watching horse races, but in same time we paid a lot of attention in rehearsals because somehow the success of the show depended on us.
5. What makes Larisa unique with the 88 other ladies?
I have a natural beauty and I'm proud of this. In Romania the MUR Organization doesn't accept contestants with plastic surgery. Do not forget that I've been part of Miss Universe Romania Pageant in 2010 when I placed in Top 10 and since then I'm working to become a winner. Even if I didn't placed in Miss Universe 2011 Pageant doesn't mean that I won't accomplish my feature goals, because I'm a very self-confident and ambitious woman.
6. Who were your closed friends in the pageant?
I've tried to make lots of friends and I succeeded, but a special bond was created between me and Sora from Korea, Anja from Serbia, Natalia from Russia, Vanessa from Venezuela and Valerie from Singapore. I hope one day I will visit my friends in their countries as we promised each other.
7. Will we still see Larisa compete in other pageants?
As Miss Universe Romania 2011 I'm involved in lots of new and interesting projects, so for the moment I'm not thinking to compete in other pageants. After competing in Miss Universe Pageant I don't think I can compete in other Pageant because nothin' can upscore this beauty competition. But, never say never...
8. Message to Fans and the Universal Beauty Council
I'm very happy with all your support before and after the Miss Universe Pageant and I really want to thank you all!
Perhaps you don't know too much about my country, but I would really enjoy to meet you all someday and tell you the legend of my Carpathian Garden, Romania and the true story of Dracula.
Sweet and special romanian hugs!
We are expressing our deep thanks and support for Miss Larisa Popa!
------------------------------------------------------------------------------------------------------